Joe Mastriano, P.C. -Unique Tax Solutions CPA
Serving Houston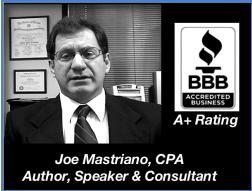 Free Consultation - Let us help with your problem!
Business Hours
Monday: 9:00am - 6:00pm
Tuesday: 9:00am - 6:00pm
Wednesday: 9:00am - 6:00pm
Thursday: 9:00am - 6:00pm
Friday: 9:00am - 6:00pm
Saturday: Closed
Sunday: Closed
Payment Accepted
American Express, Check, MasterCard, Visa
IRS Appeals,Back Taxes,Taxation Attorneys,Delinquent Returns,Expatriate Taxes,IRS Audit
More about Joe Mastriano, P.C. -Unique Tax Solutions CPA
Unique Solutions. Unique methods for over 30 years, our tax returns almost never get audited. Our payment plans prevent collection action. We have business tax solutions that save businesses taxes most people have not thought of. This is my life's work. I know the IRS business "like the back of my hand". Put my many years and thousands of successful tax case experience to work for you. You will know the difference that experience from a licensed professional CPA firm makes in understanding and resolving tax issues. Many attorneys and accountants consult with us to fix their own IRS problems. You will be surprised to hear what options are available. Offer in compromise, IRS letters, Audit letter, Respond to IRS letter, Tax problems, Tax attorney, Irs taxes, Tax advisor, Delinquent tax, Audit irs, Tax experts, File late tax, Federal tax return, Irs payment plans, Irs relief, Tax experts, Accounting firm, Letter to irs, Irs appeals, Stop irs, Trust fund tax, Innocent spouse, Advocate irs, Tax cpa, Fight irs, Representative irs, CPA irs
Related categories for Joe Mastriano, P.C. -Unique Tax Solutions CPA
After working in health care for years I decided to start my own business. When I set it up I had an business manager help me with the financial side. I donít know what happened. Either he told me the wrong thing or I didnít understand, but I ended up with a giant tax bill. Which of course I couldnít possibly pay. Joe helped me out. I donít know what I would have done if I hadnít gone to Joe!
Is your business listed correctly across the web?
Copyright © 2018 Topix LLC